President Erdoğan Receives Turkish Medalists of Rio Olympics
President Recep Tayyip Erdoğan received Turkish athletes who won medals at the 2016 Rio Olympics. Also attending the reception at the Presidential Complex were Prime Minister Binali Yıldırım and Minister of Youth and Sports Akif Çağatay Kılıç as well as Hidayet Türkoğlu and Hamza Yerlikaya, Senior Advisors to the President.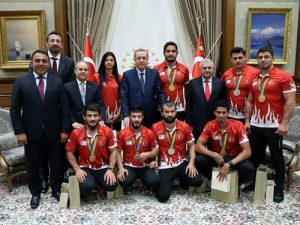 National wrestler Taha Akgül, the only Turkish gold medalist at the Olympics, silver medalist national wrestlers Rıza Kayaalp and Selim Yaşar, bronze medalist national wrestlers Cenk İldem and Soner Demirtaş, bronze medalist national hurdler Yasmani Copello Escobar, bronze medalist national taekwondo athlete Nur Tatar and silver medalist national weightlifter Daniyar İsmayilov were present at the reception.
Source: www.tccb.gov.tr