Addressing the parliament on the Democracy and National Unity Day, President Erdoğan said: "On the night of July 15, in parallel with our nation's brave resistance against putschists on the squares, our deputies gathered together at the parliament. They stood up against coup plotters by keeping the general assembly open. Our deputies, crying out 'you won't be able to achieve' to the putschists from the podium, defended the parliament, the symbol of our freedom and democracy that was entrusted to them by the people."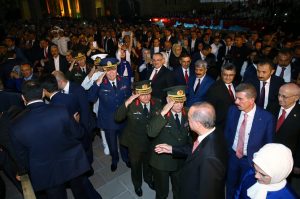 President Recep Tayyip Erdoğan and First Lady Emine Erdoğan attended the July 15 Democracy and National Unity Day ceremony in front of the Grand National Assembly of Turkey (GNAT).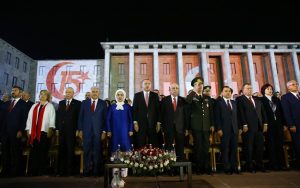 GNAT Speaker İsmail Kahraman, Prime Minister Binali Yıldırım, Nationalist Movement Party (MHP) Chairman Devlet Bahçeli, ministers, former prime ministers Ahmet Davutoğlu and Tansu Çiller, deputies from the Justice and Development Party (AK Party) and the MHP, Chief of General Staff Gen. Hulusi Akar, force commanders, heads of the high judiciary and President of the Religious Affairs Mehmet Görmez as well as martyrs' relatives and veterans were also present at the ceremony which was held at the time when the Fetullah Terrorist Organization (FETO)-member terrorists bombed the parliament during the July 15 coup attempt.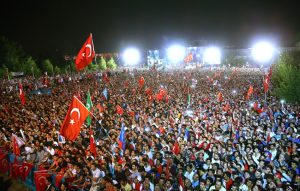 250 TURKISH FLAGS FOR 250 MARTYRS
The Turkish national anthem, the Independence March, was sung and a moment of silence was observed in memory of martyrs during the ceremony, as part of which thousands of citizens walked from the former parliament building to the GNAT in what was called National Unity March. A video mapping was also performed depicting the July 15 People's Victory.
Following the recitation of Holy Quran and singing of prayers by Religious Affairs President Görmez, two children, whose parents were martyred, presented President Erdoğan with a big Turkish flag as a representation of the 250 smaller Turkish flags that 250 youngsters had brought from the 81 provinces of Turkey on behalf of each of the 250 martyrs of the July 15 coup attempt.
"I THANK EVERY SINGLE MEMBER OF OUR NATION WHO DIDN'T GIVE FREE PASSAGE TO THE TREASON ATTEMPT"
Commencing his address at the ceremony by greeting veterans and citizens, President Erdoğan wished Allah's mercy upon the July 15 martyrs, extended his condolences to their relatives and wished health for the veterans.
"I thank every single member of our nation who didn't give free passage to this treason attempt by firmly standing up against coup plotters across Turkey, first and foremost in Ankara and Istanbul," President Erdoğan said, and underlined: "Turkish people showed the whole world on July 15 what a nation we are rather than being an ordinary society."
"OUR DEPUTIES STOOD UP AGAINST COUP PLOTTERS BY KEEPING THE GENERAL ASSEMBLY OPEN"
Coup plotters thought that deputies would flee the parliament in fear, just as they assumed that the nation would get frightened and flee to their homes, stated the President, and stressed that the people, on the contrary, took to the streets to defend their homeland, with the GNAT Speaker and 106 members of the parliament keeping the general assembly open in an attempt to resist against the coup attempt. The President added: "Those, who claim the July 15 coup attempt to be a 'theatre,' can learn the details of the incidents that took place at the parliament that night from the book 'That Night at Parliament,' published by the GNAT, as recounted by deputies from various political parties."
President Erdoğan continued: "That night, in parallel with our nation's brave resistance against putschists on the squares, our deputies gathered together at the parliament. They stood up against coup plotters by keeping the general assembly open. Our deputies, crying out 'you won't be able to achieve' to the putschists from the podium, defended the parliament, the symbol of our freedom and democracy that was entrusted to them by the people. I congratulate each and every member of the GNAT, especially those 106 deputies who were able to be present at the parliament that night."
Source: www.tccb.gov.tr