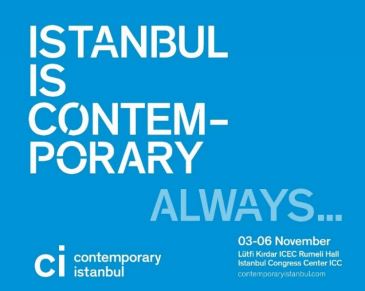 Contemporary Istanbul's 11th edition opens this week (3 - 6 November 2016) bringing
together leading contemporary art galleries from Turkey and around the world, giving a
regional and international focus to the dynamic contemporary art scene that has developed
in Istanbul in recent decades. With a distinct character as a place to discover and rediscover
significant artists, Contemporary Istanbul (CI) spreads over the 14,000 m2 spaces of Lütfi
Kırdar ICEC Rumeli Hall and Istanbul Congress Center.
Notable for its unique position both geographically and culturally, CI pays undivided attention to Turkish contemporary art and also prides itself on bringing together galleries, artists and collectors from the entire region including the Caucasus, the Black Sea, the former Russian Federation and the Middle East, as well as other countries from around the world. This year, CI presents 1,500 artworks by 520 artists, exhibited by 70 leading and emerging galleries from over 24 cities across 20 countries.
Ali Güreli, CI's Chairman comments:
"We are enthusiastically celebrating Contemporary Istanbul's 11th anniversary this year.
Istanbul inspires those of us who organise the fair and has the fundamentals of a global city,
both in terms of the volume of art it hosts and the environment that sustains it. After facing a difficult year across the region, we have realised that to position Istanbul as an even stronger hub for culture, we have to work more closely alongside other institutions, museums, galleries and key players in the industry. As of 2017, we have therefore decided to change dates of CI to the second week of September to coincide with the opening of the Istanbul Biennial, founded and organised by the Istanbul Foundation for Culture and Arts, as well as other important art events in the city. We believe our individual efforts will be enhanced through collaboration and that mutual support during these challenging times is essential for culture to thrive. We hope our combined efforts will create an even stronger date in the art world calendar for Istanbul. Over the past 10 years we have established a market within a sector that has received international recognition. Istanbul has drawn attention as an important player in the art world through the organisation of major exhibitions - the most prominent being the Istanbul Biennial. The city has also seen a rapid opening of museums and galleries as well as a growing art fair calendar, partly due to the impact of CI."
For the 10th consecutive year, Contemporary Istanbul is supported by its main sponsor
Akbank. As international and regional interest in the fair grows, Akbank continues its shared vision for supporting the arts and delivering artistic excellence and diversity.
Suzan Sabancı Dinçer, Akbank Chairman and Executive Board Member, comments on the
importance of CI:
"Globalisation and the international zeitgeist have both helped contemporary art make great strides in Turkey. We are also doing our bit and working very hard to popularise contemporary art and introduce it to our people. We have been steadfast supporters of Contemporary Istanbul, Turkey's premier platform for contemporary art, since its inception, and are proud to be its main sponsor for tenth year running. Compared to when we began, contemporary art enjoys a far better standing in our country. Istanbul now ranks as one of the world's important art centres and we are honoured to have played a part in this. As dedicated witnesses and patrons of the arts, we will continue supporting contemporary art in Turkey. To this end, we are glad to see how successful Contemporary Istanbul has become over the years, and to witness its great role in representing Istanbul. Akbank will proudly keep assisting in the right and true
promotion of our country in the rest of the world."
Gökçe Meriçten, Ferko Vice Chairman of the Management Board, also reflects on the fair's
important role and states:
"As Ferko, we are increasing the framework of our four year support which we started in 2015. As a brand realising quality and luxury projects with the understanding of modern design for 25 years, we are honoured to support the most comprehensive modern and contemporary art activity of Turkey."
Presented for the first time at the fair is Collectors' Stories, an exhibition of artworks
personally selected by 60 collectors from their private collections. Also new this year is CI
Design, which focuses on functional art and unique design pieces and is directed by Susan
McMurrain. Returning to the fair are the sections: Solo Shows, curated by a single artist or
artist group; and the fair's programme of talks CI Dialogues. Dedicated to showcasing new
media artworks, Plugin will gather galleries, architecture and design studios focusing on new media related initiatives.
The fair is also pleased to announce the launch of the "Best Curated Booth Award" at CI 2016.  All participants of the fair are eligible for this award, which was launched to recognise
exceptional curatorial and artistic concepts on galleries' booths. The jury consists of Marc Olivier Wahler; CI's Artistic Advisor, Marcus Graf; CI's Program Director, Derya Yücel; Curator of the Australia China Art Foundation, Jeremy Gales; and Yashar Samimi Mofakham, CoFounder and Curator of Bread & Salt Projects. The winner will be announced on 3 November.
Organised by CI Associate Sponsor Yıldız Holding, the Ülker Children's Art Workshop will also be held at Lütfi Kırdar ICEC Rumeli Hall to help children appreciate art from an early age and develop their imaginative skills. Brand Communications Director Hande Ertan states:
"At Yıldız Holding, we are involved in projects which allow people from all walks of life to access artistic and cultural activities, and it is our 4th year in our sponsorship for Contemporary Istanbul. Since its launch, the Ülker Children's Art Workshop has brought 14,000 children closer to the arts. Our main wish is to sustain our project for several more years with a richer content. In this sense, Contemporary Istanbul is one of the finest opportunities for us to reach children."
CI Artistic Advisor Marc-Olivier Wahler comments:
"There is an identifiable, strong and positive movement over recent years in the Turkish art
world that cannot be stopped, and CI has an integral role in this. Art provides the visual narrative and the lens through which our society can be understood through different perspectives. Especially in Turkey and the region, contemporary art acts as a toolbox for mental hygiene and that makes the fair even more relevant on an international stage."
FAIR FACTS

DATES:
2 November 2016 / Preview (by invitation only)
3 - 6 November 2016 / Open to public
VISITING HOURS:
3 November 2016, Thursday 11am – 8pm
4 November 2016, Friday 11am – 9pm
5 November 2016, Saturday 11am – 8pm
6 November 2016, Sunday 11am – 7pm
VENUES: ICC, Istanbul Congress Centre: Darulbedai Cad. No: 3 Sisli Istanbul
Lütfi Kırdar ICEC Rumeli Hall, Istanbul Convention and Exhibition Centre: Gümüş
Cad. No: 4 34367, Harbiye, Istanbul
ENTRANCE FEES: Student: 20 TL (6 EUR) / Regular: 40 TL (12 EUR)
For more information : www.contemporaryistanbul.com